Who we are :
Our winery produces D.O.C. (Controlled Denomination of Origin) wines of Abruzzo. Our annual production amounts to about 2.500 hl of wine, most of it red and cherry - red wine. We principally operate on the italian market, but we aspire to the conquest of the emergent markets through new forms of distribution.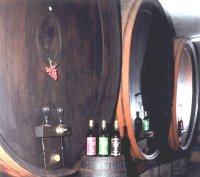 ---
Our address:
Giuseppe Lattanzi
via G.Galilei n° 124
64022 - Giulianova Lido (TE)
P.I. it00063740674
Our telephone numbers:

Tel. +39.085.8006840
Fax +39.085.7992763
For furthur information just click on the envelope (*)


(*) We usually reply to all the people that write us, everything they want to say, but we can't reply to all the label collectors, they are too much, sorry. We have some spamming problems sometimes, so our apologies to all that people we've never replied, we invite them to write us again.
---
Azienda Vinicola Lattanzi via G.Galilei n° 124 64022 - Giulianova (TE) Tel. +39 085.8006840 Fax +39 085.7992763